Next virtual event: 1 September 2021
Valuation meets ESG & Sustainability:
Analysis – Value Driver – Valuation
14:00 – 16:15 (CET) (one 15-minute breaks)
2 hours of continuing education credit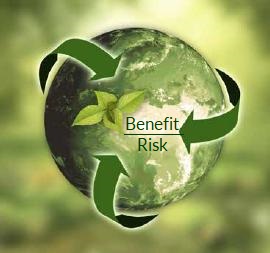 ESG and sustainability are not only buzzwords in today's business valuation. Investors, analysts and valuation appraisers more and more often take ESG-related topics into account when determining the value of businesses. They do it because it is today broadly understood that ESG and sustainability can have a real impact on the value discovery.
In this seminar we shed light on the most important aspects of ESG integration:
How to include ESG into valuations
How far can we use our existing valuation framework for this? And where do we have to extent it?
Where to look at from an analytical point of view?
How can we translate this into a practicable valuation approach?
Content:
The different shades of ESG aspects (and how to deal with them in business valuation)
Balancing cost-benefit effects of ESG in business valuation
Typical practical examples and how to deal with them in our valuation models
Discussion (your questions to the speaker)
Speaker: Prof. Dr. Matthias Meitner, CFA 
Managing Partner at VALUESQUE
Professor for Finance, Accounting & Business Valuation, International School of Management (ISM)
Chair of the Centre for Business Values, International School of Management (ISM)
Heading the Expert Network "Equity Valuation and Analysis" of the CFA Society Germany.
Member of the Capital Market Advisory Committee (CMAC) of the IFRS Foundation
Member of the EU-linked European Financial Reporting Advisoy Group (EFRAG) User Panel
Registration Fees:
€ 120 (€ 142,80 incl. 19% VAT) for EACVA/NACVA members
€ 150 (€ 178,50 incl. 19% VAT) for guests
Registration fee includes the web seminar materials in PDF format.

---
2 September or 28 October 2021
FREE 1 hrs Web-Seminar, 1 hrs CPE Credit for free
THRIVE, SURVIVE, OR NOSEDIVE!
THE WORLD OF EXPERT WITNESSES
Co-Sponsored by the Consultants' Training Institute® and the National Association of Certified Valuators and Analysts®
For Details and Registration please click here: REGISTRATION
---
21-25 June 2021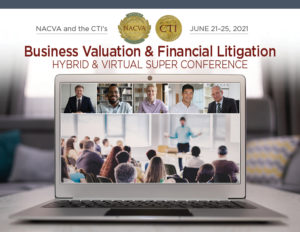 Keynotes and Plenary Sessions
Keynote: Disruption, Opportunity, and Flashing Red Lights to Pay Attention to in Professional Service Firms | Daniel Hood, Bob Lewis, Michael Platt
COVID-19 One Year Later: Lessons Learned About Cost of Capital Assumptions | Jim Harrington, Carla Nunes
New Standards for Conducting Financial Forensics | David Wolfe
Keynote: Cyber Security and Data Privacy | David Sems
The Future of the Business Valuation Profession | Chris Mercer
The Size Effect: It is Still Relevant | Roger Grabowski, Jim Harrington
Featured Sessions
Applying BV Review Standards to Damage Measurement Reporting | P. Dermot O'Neill
Family Limited Partnerships—Valuation Tools to Help Protect the Family Business | Stephen White
Profit Margin Adjustments—The Line Between an Opinion of Value and Withdrawing from the Engagement | Jason Pierce
Empirical Research Regarding Discounts for Lack of Marketability | Mark Vianello
Lost Profits or Lost Earning Capacity—Estimating Lost Income for the Self-Employed | Allyn Needham
You Be the Judge—The Appraiser's Role as Neutral or Trier of Fact | Terry Lloyd
Show Me the Money—Real World Valuations in a (Post) COVID World | Kathleen Lauster
Finding New Clients in Today's Economy | Greg Chambers
Forensic Analysis of IRS Enforcement of Corporate Offshore Profit Shifting | Stephen Curtis
Building Flexible Models with Microsoft Excel's New Dynamic Arrays | Carl Seidman
Valuing Closely-Held Farms and Ranches with Economic Reality | Ericka Heiser
Additional Details Coming Soon.
For more information please go to NACVA's website.
---
---
---
Past events:
12 March 2021 online via Zoom
Speakers:
Prof. Dr. Mauro Bini (Bocconi University, Milan)
Roger Grabowski, ASA (Duff & Phelps)
Dr. Holger Himmel (PwC)
Karin Lusnic (BDO)
Dr. Anke Nestler (Valnes)
Prof. Dr. Andreas Schüler (Universität der Bundeswehr Munich)
and topics:
Early warning signs (value based) of imbalances in troubled firms
ESG as an increasing value driver in business valuation
Data as an asset
Valuation of hospitality business (particularly hotels) in 2021
Cross-border DCF valuation: discounting cash flows in foreign currency
More details and information about EACVA's Business Valuation Conferences on www.valuationconference.de.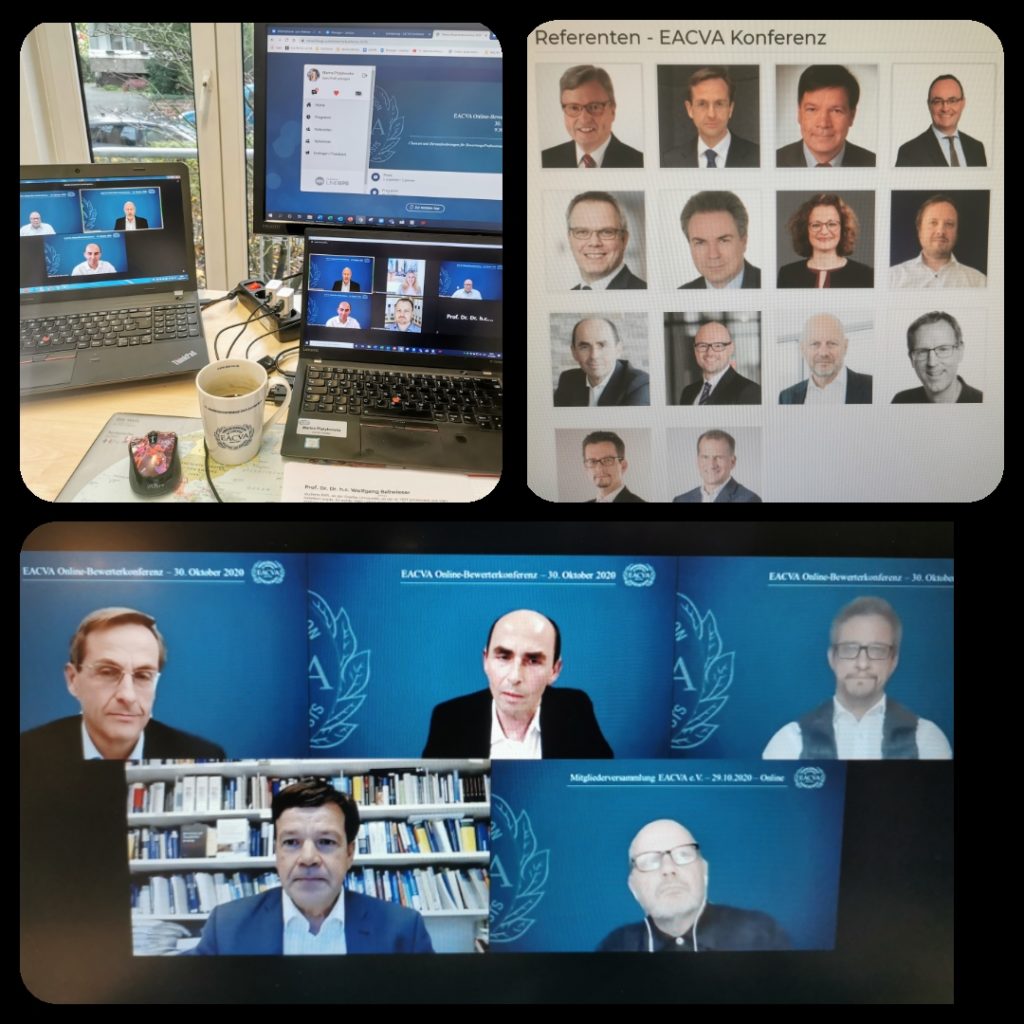 ---
Live Online CVA Training: 3 March – 17 March 2021, 5,5 days, via Zoom
CVA Training: 8 – 12 December 2019 / CVA Exam: 13 December 2019, Location: Berlin, Germany
---
Annual Business Valuation Conference 2019
5 – 6 December 2019, Berlin, Germany
Keynote Speakers 2019:
Prof. Aswath Damodaran, Ph.D., MBA,  Stern School of Business at New York University: Narrative and Numbers – The Story behind your Valuation
Marc Goedhart, McKinsey / 
co-author of the book "Valuation": Four Principles of Value Creation
---
CVA Training: 6 – 10 May 2019 / CVA Exam: 11 May 2019 / Location: Berlin, Germany
---
CVA Training: 16 – 20 July 2018 / CVA Exam: 21 July 2018 / Location: Frankfurt, Germany
---
Annual Business Valuation Conference 2018:
22 – 23 November 2018, Dusseldorf, Germany
---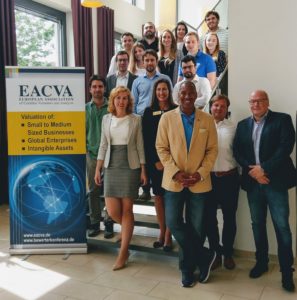 CVA Training: 19 – 23 June 2017
CVA Exam: 24 June 2017
Location: Frankfurt, Germany