CVA Training & Exam December 2021
Certified Valuation Analyst® (CVA®)—Determine, Defend, and Maximize Company Value™
Live Online CVA Training: will be held from 6 December – 15 December 2021 (Five-and-a-half-day training / 42 hours of continuing training credit)
Location: interactive live Zoom meeting
Proctored CVA Exam: testing center or via live remote proctoring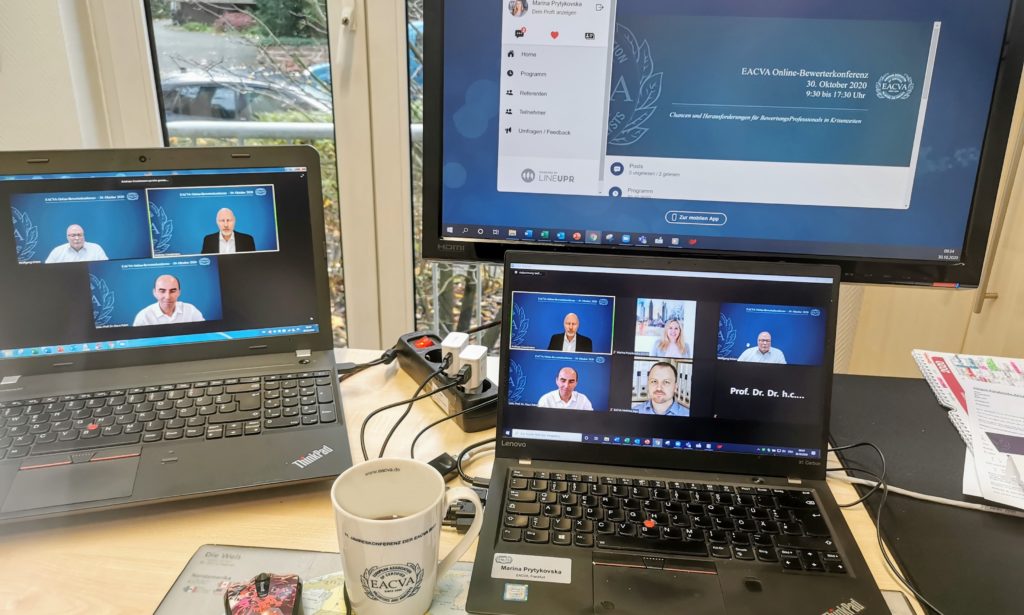 CVA Training Overview
The training is a five-and-a-half-day live online training program with an experienced team of renowned instructors who will prepare attendees to pass the business valuation certification (CVA) exam.
The Core Body of Knowledge for International Business Valuations (BOK) has been launched in  2017 — along with the International CVA Exam. The BOK and International CVA Exam are global in application to business valuation methodologies and approaches.
The CVA training offered globally follows the curriculum as described in NACVA's Business Valuation Certification and Training Center. NACVA's international chapters are able to develop and teach supplemental content specific to their country or region, but this supplemental content is not tested on the International CVA Exam. Supplemental content can be added to the International BOK as an appendix.
EACVA CVA Training Exam Information 2021 (PDF)
CVA Registration Form and Information Handbook 2021 (PDF)
Course Agenda

I. BV Fundamentals, Techniques & Theory (4 x ½ days)
Introduction to Business Valuation
Financial Statement Analysis and Calculation of Financial Ratios
Generating Economic/Normalized Financial Statements
Defining and Estimating the Future Benefit Stream
Capitalization/Discount Rates
Commonly Used Methods of Valuation
Valuation Discounts and Premiums
Professional Standards
Defining the Valuation Engagement and Obtaining the Necessary Information
Search for Adjustments
Practice Case—Workshop
II. The Market Approach: Exploring the Pricing Component (½ day)
Understanding and Applying the Market Approach to Valuation
Completed Transactions Method
Data Sources Commonly Used for the Completed Transactions Method
III. The Market Approach: Guideline Public Company Method (½ day)
Conception and Basic Assumptions
Sources and Aggregation of Peer Data
Adjustments Based on Regression Analysis
Reference Bases for Multiples
Concurring Adjustments of Multiples
Enterprise Value Multiples (Market Value of Invested Capital (MVIC) Multiples)
Equity Value Multiples
Excess Cash
Empirical Results
IV. Valuation of Intangible Assets (½ day)
Fundamentals of the Valuation of Intangible Assets
Identification of Intangible Assets
Valuation Approaches:

Overview
Valuation of Assembled Workforce
Valuation of Technology
Valuation of Trademarks and Other Marketing Related Assets
Valuation of Customer and Order Backlog
Tax Amortization Benefit

Asset Specific Cost of Capital
IFRS 3 and Fair Value Measurement Framework (IFRS 13)
Impairment Test (IAS 36)
Summary of Assumptions for Fair Value and Value in Use
V. Applications and Calculations of the Income Approaches: DCF in depth (1 and ⅓ days)
International Valuation Standards (IVS)
Business- and Peer-Group Analysis
Integrated financial planning as the backbone of each DCF model (P&L, balance sheet, cash flow statement, tax planning including tax loss carryforwards)
Terminal value, different approaches and assumptions, competitive advantage period, steady state, convergence
Details on Cost of Capital:

CAPM: Beta in depth for the use in practice
Debt-Beta
Unlevering and relevering formulas depending on different assumptions regarding tax shields and debt-beta
Circular problems and the solutions in practice
Modifications of CAPM

DCF-Methods:

Entity Methods: WACC, APV, Total Cash Flow-WACC
Net-Debt
Equity Method: Flow to Equity

Special Valuation Issues:

Cash flows in different currencies
Local CAPM vs. Global CAPM
Country Specific Risk
VI. Case Study: Valuation (DCF and Multiples) and reporting of a European mid-market company (½ day)
VII. Exam Preparation – CVA Proctored Exam and Business Valuation Report (Case Study) (⅓ day)
---
CVA Proctored Exam
the five-hour proctored exam is administered at a Kryterion test center or via live remote proctoring. In response to limited test site availability resulting from the COVID19 pandemic NACVA is offering temporary testing by live remote proctoring (LRP). Candidates using the live remote proctoring option will receive the requirements from EACVA/NACVA via e-mail.
consists of approx. multiple choice and true/false questions derived from the Core Body of Knowledge for International Business Valuations (BOK)
Exam pass/fail results are communicated to CVA candidates approx. 14 days after the exam date
Retake option will be presented to candidates in the event they fail the exam
CVA Exam and applied experience
The certification process consists of two parts:
Part One (testing knowledge) is a comprehensive, five-hour, multiple-choice, proctored examination, which is administered at a Kryterion test center or via live remote proctoring. It consists of multiple-choice/true-false questions, testing applicants on EACVA's/NACVA's Business Valuation Body of Knowledge.
Part Two (evaluating applied experience), is not an exam but

is a take-home/in-office sample Case Study (applicants have 180 days to complete and submit a comprehensive business valuation report) or
submitting an actual and sanitized Fair Market Value/Market Value business valuation report on an operating business signed by the candidate
Case Study Requirements
Candidates perform a valuation and write a Fair Market Value/Market Value business valuation report of a minority share of a small or mid-sized stock listed company.
In most cases the companies are selected from the countries of origin of the individual attendees. For example: an attendee from Spain will obtain a Spanish company.
Processing time is 180 days.
Attendees have to submit the signed version of the valuation report as well as a copy of all working papers (hard copy and/or electronically).
CVA Registration Form and Information Handbook 2021 (PDF)