Next conference in English: NACVA's Business Valuation & Financial Litigation Conference 13-17 December 2021.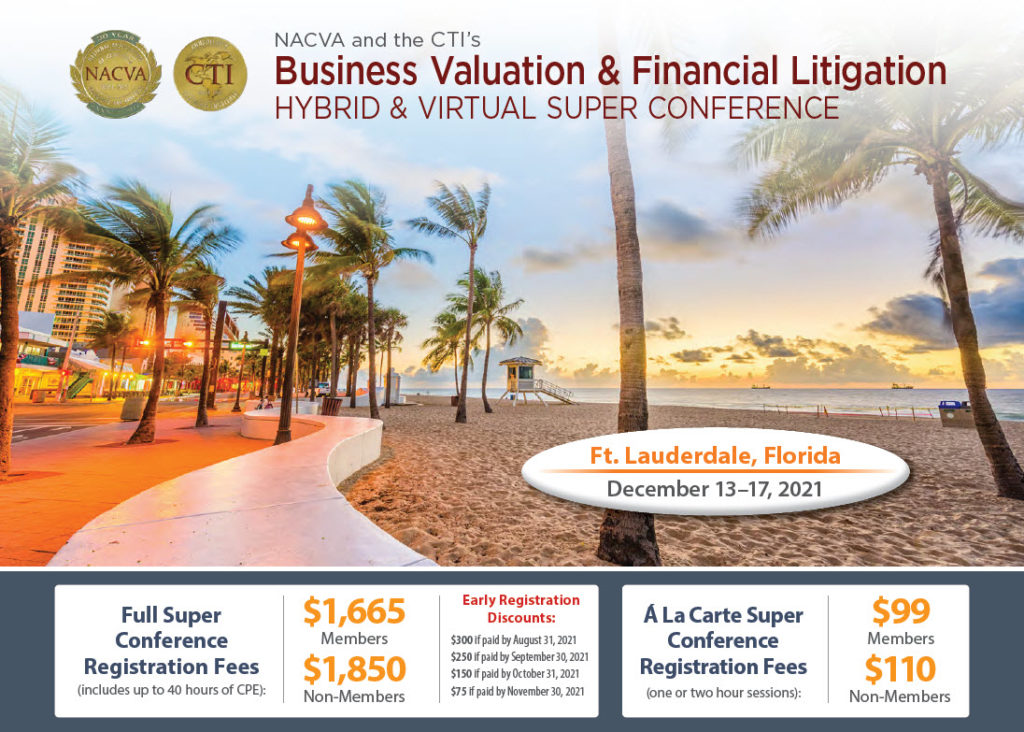 EACVA have been holding Annual Business Valuation Conferences in Germany since 2007, focusing not only on the German speaking valuation world but also our international guests with a wide variety of international tracks and sessions.
Read more at the conference webiste: www.valuationconference.de.
EACVA's 14th Business Valuation Conference
18 and 19 November 2021, Munich, Germany
More information: www.valuationconference.de.
EACVA's Live Online International
Business Valuation Conference –
12 March 2021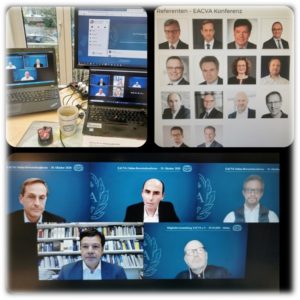 Speaker:
Prof. Dr. Mauro Bini (Bocconi University, Milan)
Roger Grabowski, FASA (Duff & Phelps)
Dr. Holger Himmel (PwC)
Michael G. Kaplan (Forensic Valuation Advisory), CPA/ABV/CFF, CVA, MAFF
Karin Lušnic (BDO)
Dr. Anke Nestler, CLP, CVA, ö.b.u.v. Sachverständige (Valnes)
Prof. Dr. Andreas Schüler (Universität der Bundeswehr Munich)
Prof. Dr. Bernhard Schwetzler, CVA (HHL)
Topics:
Early warning signs (value based) of imbalances in troubled firms
Evidence of Size Premia in Europe
ESG as an increasing value driver in business valuation
Data as the new "oil"? The valuation of data as an intangible asset
Valuation of hospitality business (particularly hotels) in 2021
Cross-border DCF valuation: discounting cash flows in foreign currency
You set the value, we set the terms – the role of cash flow rights in venture capital valuations
Sizzle on the Witness Stand: The Art of Delivering Compelling and Persuasive Expert Testimony
EACVA's 13th Business Valuation Conference 2019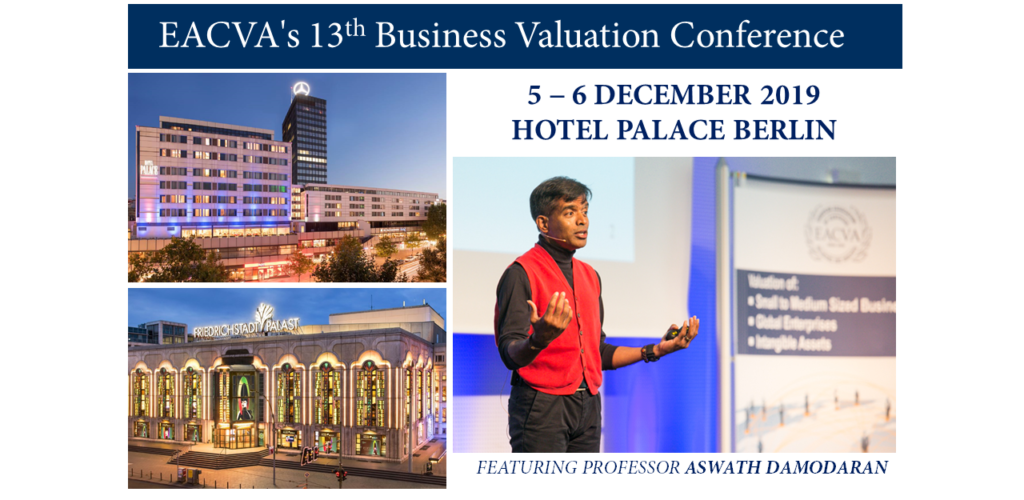 Pre-Conference Dinner & Show Event (The VIVID Grand Show) on Thursday evening, 5 December at the Friedrichstadt-Palast Berlin (dinner & show tickets are complimentary for conference attendees, registration is required)
13th Business Valuation Conference with international keynotes and sessions (held in English language) on Friday, 6 December at the Hotel Palace Berlin
Keynote Sessions:
Professor Aswath Damodaran, Ph.D., MBA, Stern School of Business at New York University:

Narrative and Numbers: The Story behind your Valuation

Marc Goedhart, McKinsey:

Four Principles of Value Creation
Featured Sessions:
Roger Grabowski, FASA, Duff & Phelps: Estimating Long-Term Growth Rates
Ingo Bertram, CVA, KPMG: IFRS 16 (Leases) and its Effect on Valuation
Prof. Dr. Bernhard Schwetzler, CVA, HHL Leipzig: Terminal Value Calculation – Fading Assets, (Excess) Returns or Growth Rates
Dr. Tim Laas, WP, Alvarez & Marsal: Derivation of Implied Cost of Capital
Prof. Dr. Matthias Meitner, CFA, ISM / VALUESQUE: Current Trends in Financial Statement Analysis (for Business Valuators)
Lari Masten, MSA, CPA, ABV, CFF, CVA, CPVA, ABAR, MAFF, Masten Valuation: Crossing the Bridge to Liquidity – Discounts for Lack of Marketability (DLOM) and Discounts For Lack of Liquidity (DLOL)
Read more at the conference webiste: www.valuationconference.de.
---
Conference Video 2018: