We have been holding Annual Business Valuation Conferences in Germany since 2007, focusing not only on the German speaking valuation world but also our international guests with a wide variety of international tracks and sessions.
Read more at the conference webiste: www.valuationconference.de.
Save the date: EACVA's 14th Business Valuation Conference 2020
29-30 October 2020 – Munich
EACVA's 13th Business Valuation Conference 2019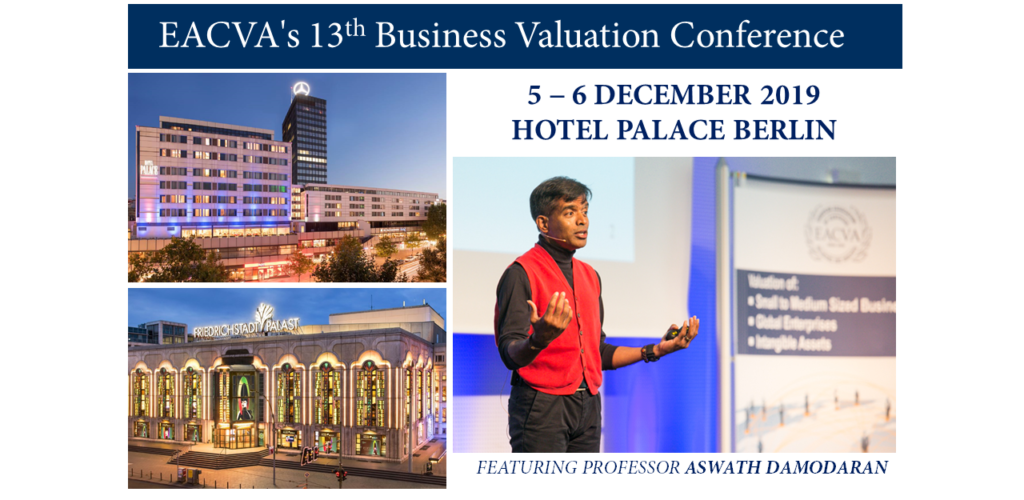 Pre-Conference Dinner & Show Event (The VIVID Grand Show) on Thursday evening, 5 December at the Friedrichstadt-Palast Berlin (dinner & show tickets are complimentary for conference attendees, registration is required)
13th Business Valuation Conference with international keynotes and sessions (held in English language) on Friday, 6 December at the Hotel Palace Berlin
Keynote Sessions:
Professor Aswath Damodaran, Ph.D., MBA, Stern School of Business at New York University: 

Narrative and Numbers: The Story behind your Valuation

Marc Goedhart, McKinsey:

Four Principles of Value Creation
Featured Sessions:
Roger Grabowski, FASA, Duff & Phelps: Estimating Long-Term Growth Rates
Ingo Bertram, CVA, KPMG: IFRS 16 (Leases) and its Effect on Valuation
Prof. Dr. Bernhard Schwetzler, CVA, HHL Leipzig: Terminal Value Calculation – Fading Assets, (Excess) Returns or Growth Rates
Dr. Tim Laas, WP, Alvarez & Marsal: Derivation of Implied Cost of Capital
Prof. Dr. Matthias Meitner, CFA, ISM / VALUESQUE: Current Trends in Financial Statement Analysis (for Business Valuators)
Lari Masten, MSA, CPA, ABV, CFF, CVA, CPVA, ABAR, MAFF, Masten Valuation: Crossing the Bridge to Liquidity – Discounts for Lack of Marketability (DLOM) and Discounts For Lack of Liquidity (DLOL)
Read more at the conference webiste: www.valuationconference.de.
---
Conference Video 2018: